Melissa Carnes Rose, AuD
Owner, Audiologist
Owner of Nardelli Audiology and a Certified Audiologist, a Mannington native, Melissa Carnes Rose attended North Marion High School, graduating in 1999. She went on to West Virginia University where she completed her Bachelor of Science in Speech Pathology and Audiology graduating Magna Cum Laude in 2003. She also graduated with a minor in Communication Disorders and a Certificate in Gerontology in 2003.

She earned her Doctorate in Audiology (AuD) at West Virginia University in 2007 graduating at the top of her class. Dr. Rose completed her Clinical Fellowship at the Blue Ridge Hearing in Balance in Bluefield, WV where she spent 15 months specializing in Balance Disorders as well as evaluating and treating hearing loss with advance technology. Upon completing her fellowship, Dr. Rose moved back to Fairmont and began working at Nardelli Audiology.

Dr. Rose evaluates and treats hearing in adults with advanced digital hearing aid technology and advanced wireless technology. At this same time she accepted a job working Fridays at Ohio Valley Medical Center where she evaluated and treated balance disorders. She then in 2012 became full time at Nardelli Audiology. Dr. Rose feels blessed to be serving the community of her youth. She looks forward to many more years of helping people hear well in Marion, and Harrison County, and all of the surrounding areas. Dr. Rose enjoys spending time outdoors with her husband David and son Elijah.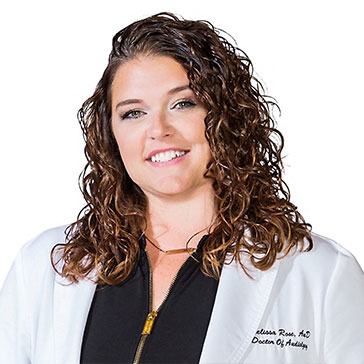 Request a Call Back
Contact your neighborhood doctors for hearing health care today to set up an appointment with an audiology & hearing healthcare professional to discuss your hearing health, hearing aids, and the best way to treat your hearing loss.