ReSound Hearing Aids Are Making It Personal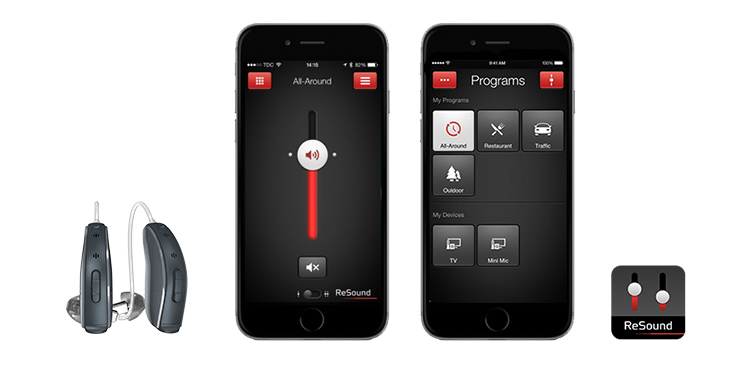 Hearing aids are getting smarter. Some of the tweaking and fine-tuning that used to be up to the audiologist is now being put in the hands of the user. I tried out ReSound's LiNX2 product at CES 2016.

I put a receiver-in-ear hearing aid in each ear; they were synced to an iPad (a smartphone would work too) in the busy convention center. I wanted to be able to hear the people in front of me amid all the background noise. I tapped the "Noise" tab at the bottom of the sound enhancer screen on the iPad and slid the control bar to the right. It worked—no chatter. For someone like me with no hearing loss, it was like having super hearing.

Other tabs would allow me to adjust for wind or speech if, for example, I were outside on a blustery day or if I were to need to direct my attention to what a particular person had to say.
Putting the User in Control
Resound collaborated with Apple nearly two years ago to produce its first hearing aid, the Linx, that could be controlled via smartphone. Now Android devices can connect as well via the ReSound Smart app. The Linx2 works with a variety of hearing aid types, including receiver-in-ear and behind-the-ear. "The app lets you adjust for different situations, such as being in traffic or in a restaurant," says Laurel Christensen, Ph.D., ReSound's chief audiology officer. "This app gives the user more control and more opportunity to be successful in getting the most out of a hearing aid."

Besides being able to adjust for noise, wind, and speech, the Smart app allows the user to fine-tune the volume (up or down about 6 decibels), treble, and bass for each ear, and even has a "Find My Hearing Aid" function if it's misplaced.
Wireless Accessories
Mini microphone. I tested out the little microphone with a ReSound audiologist. She clipped it to her lapel and walked back about 15 feet and spoke to me. Despite the convention hubbub I could hear her as though she were right next to me—a feature that could be handy when two people want to communicate in crowded conditions.
Phone clip. Those who have Android devices can use this device to turn their Resound hearing aids into headphones to connect to their phones or tablets, and it allows for volume adjustment. The Linx2 hearing aids connect directly to most iPhones and iPads without an accessory.
Article from consumerreports.org