Hearing Aids and Happiness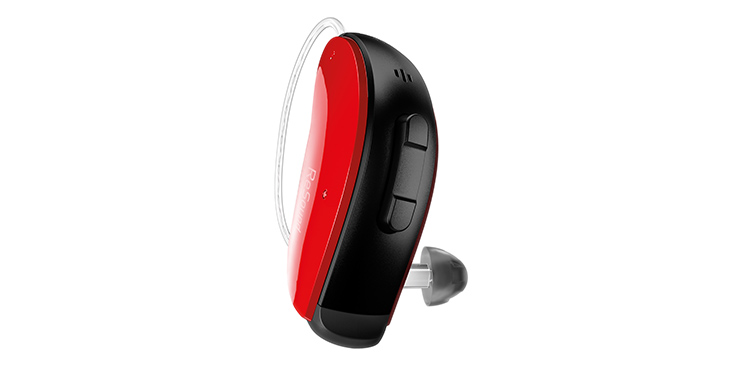 In terms of our health, happiness is a miracle drug. It can help us live longer, be more optimistic — even increase marital satisfaction. How do you measure happiness? We're all aware that smiling and laughing are physical signs of happiness and joy, yet characteristics of a perpetually happy person depend on how satisfied they are with various aspects of their life. And since finding happiness is a personal journey, here's a tip to start you on your way: If you have hearing loss, wear hearing aids.
Hearing aids improve relationships
Research indicates that individuals with hearing loss who wear hearing instruments have better relationships with family members, friends and colleagues than those with untreated hearing loss.
At home: Positive emotion is linked to marital satisfaction. A Hear-the-World Foundation survey of more than 4,300 people about hearing aids and relationships revealed:
69.7 percent believe hearing aids have improved their relationships.
81 percent whose partner has been fitted with a hearing aid say they are glad.
40 percent say they receive more attention from their partner.
More specifically, married couples say hearing aids make it easier to carry on a conversation and relate to each other on an interpersonal level. They also say hearings aids diminished feelings of frustration, anger, depression, loneliness, stress and anxiety they were experiencing before wearing the instruments. Another bonus? Healthy relationships are linked to strong immune systems, which, of course, is good for your overall health.

With friends: Studies indicate people are happiest when they are connected to a social group, a characteristic threatened by untreated hearing loss. Amplification reduces the risk of self-imposed isolation, helping you hear the punch line the first time the joke is told or feel more comfortable participating in the conversation at your neighbor's next backyard barbeque. Since untreated hearing loss also causes mental exhaustion, hearing aids may even improve your golf game and give you the energy you need to help with the church bazaar.

A scientific review of a large number of surveys shows hearing aid users experience a significant improvement in the quality of life. One of the key points of the review found that hearing aid users are more likely than non-users to engage in activities involving other people. They also found hearing aid users are warmer and less negative in their personal relationships.

In the workplace: When the Better Hearing Institute conducted a study of hearing loss in the workplace, seven in 10 participants reported improvement in their ability to communicate when they wore hearing aids. That means an increased ability to hear what's being said in meetings, understanding telephone conversations more clearly — and even more enjoyment interacting with your co-workers at the water cooler or in the break room.
Hearing aids improve earning potential
Yes, we know that money can't buy happiness, but in the words of country singer Chris Janson, "It can buy me a boat." Even if you don't want to buy a boat (or a truck or Yeti 110, as the song goes), it probably wouldn't make you happy to learn you may be earning less if you have untreated hearing loss.

A 2011 study by the Better Hearing Institute found untreated hearing loss can cost an employee as much as $30,000 in lost income every year. On the flip side, those who wear hearing aids to treat mild hearing loss reduce that loss by as much as 90 to 100 percent. In EuroTrak and JapanTrak surveys conducted in 2012, 60 percent of hearing aid users said they found hearing aids to be of significant use in the workplace.
Hearing aids enhance cultural experiences
We know from various studies that hearing aids bolster self-confidence and give users a better sense of safety and independence. That might just give you the push you need to resume other activities you enjoy, such as attending concerts, the theater — or even just appreciating the sweet sounds of nature on a stroll around the neighborhood.

Music: Whether you like Beethoven, the Beatles or the Beastie Boys, listening to music is a pastime that invokes a lot of emotion. Neuroscientists say listening to music stimulates dopamine which makes us happy. Music also lowers stress levels, improves our immune system and memory, and inspires us to exercise.

Although today's hearing aids are programmed to better understand speech, hearing aid users in a survey conducted by researchers at the University of Cambridge found they were helpful for listening to music, too. And, thanks to new hearing aid and assisted listening technology, you can enjoy a night at the opera, the symphony or your favorite entertainer's concert whenever your schedule permits.

Theater: There's no reason to sacrifice the joy you receive from attending the theater or a night at the movies because it's just too hard to hear what's being said. Today's hearing aids are becoming more and more adept at separating speech from background noise. And, thanks to the Americans with Disabilities Act (ADA), many venues have installed hearing loops which literally pipe the dialogue right to your hearing aids.

Nature: In a 2013 study by the David Suzuki Foundation, more than 10,000 Canadians spent 30 minutes in nature every day for 30 days. As a result, they reported an increased sense of well-being, more energy, reduced feelings of stress and negativity, fewer sleep disturbances, better job productivity and more happiness.

Being outside and experiencing nature reduces stress levels, improves your vitality, improves overall mental wellness and boosts your immunity. In short, it makes you happy. So, if you can't remember the last time you heard the birds sing or the crickets chirp, it may be time to make an appointment with a hearing healthcare professional and have your hearing checked. Your first step to living happier and healthier may just be a phone call away.
Article from healthyhearing.com